Officer/Steward Training in Massachusetts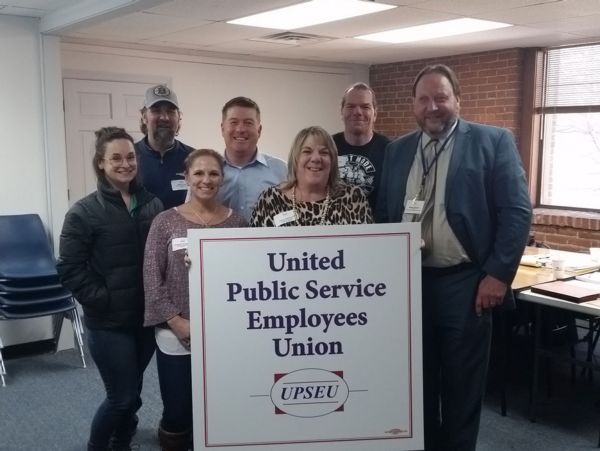 Front Row Left to Right: Ellie Rulon-Miller (Westfield Dispatchers), Christine Gustafson (Westfield Dispatchers), Laura Bonavita (City of Springfield) Back Row Left to Right: Michael Towle (West Springfield Custodians), Attorney John Connor, John Fontaine, Sr. (Holyoke Water), Roger Stolen, Labor Relations Rep.
UPSEU held a Basic Steward/Officer training in Massachusetts on January 30, 2019 where those in attendance learned how to handle a grievance from the beginning stages up and through the final stages of grievance arbitration.
Attorney John Connor and UPSEU Labor Relations Representative Roger Stolen provided the training for those in attendance. The officers/stewards whom attended the training learned how to identify if a grievance occurs, the importance of meeting with the grievant to obtain all the facts, the need to request information from the Employer as it pertains to the grievance, the standard grievance language and the legalities of grievance arbitration and the process involved.
Roger Stolen stated, "the training was a huge success as the participants learned a tremendous amount of information as it pertains to the grievance process. Our officers/stewards are dedicated to both the job they perform at work and also to the job of being a unit officer/steward. This was evident on the day of the training when there was a snow storm and several officers/stewards were unable to attend as they needed to perform essential plowing for their respective municipalities."
Eleanor Rulon-Miller, vice president of the Westfield dispatchers said, "I found the subject topic to be informative and directly relevant to the environment that exists between the dispatchers and management in Westfield. The techniques and advice that we were taught will help us in our future endeavors to properly identify and resolve potential grievances in a fair and equitable manner."
UPSEU cannot thank each of our unit officers and stewards enough for the important role that each of them plays on a day-to-day basis for each of their respective bargaining units. While not always an easy job, the role of an officer/steward can be deeply rewarding.