Stamford BOE Paraeducators Vote Nearly Unanimously to Affiliate with UPSEU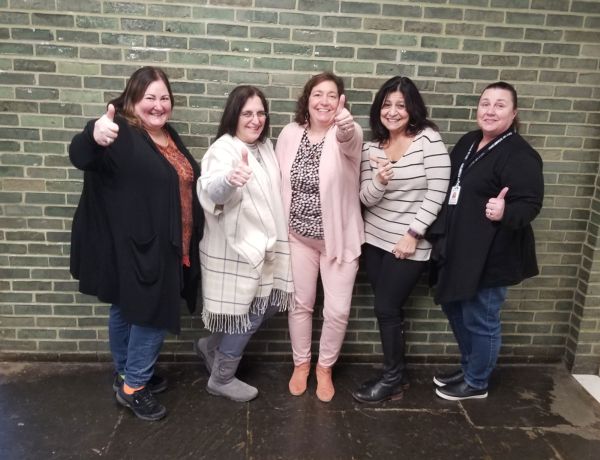 Picture (left to right) - Deena Melchionno McKee (Corresponding Secretary), Paulette DeLeo (Unit President), Debra Gibb (Recording Secretary), Linda Uva (2nd VP), and Elyse Pastore (Treasurer).
On February 27, 2019 the Paraeducators of Stamford Association (POSA), comprised of approximately 420 members, voted nearly unanimously in a secret ballot vote to affiliate with UPSEU.
Matt Geer, UPSEU Regional Director, stated "I commend the Executive Board and the membership for staying patient while standing united together as they actively pursued joining forces with a strong labor union. On behalf of UPSEU, we are honored that the Paraeducators of Stamford Association determined after extensive research that our organization is the right union for them. The members deserve to feel respected in the workplace by their Employer and unfortunately that climate doesn't currently exist. However, UPSEU is committed to changing that climate by continually challenging the Employer and making it known by our actions that these members now finally have a true advocate in their corner."
The POSA Executive Board knew they needed to provide exceptional day-to-day representation and the skillset of professional negotiators to the hardworking Paraeducators. The Executive Board had met privately with several different labor unions over the past ten years and each time they felt the labor union whom they met with was not a good fit for the membership for varying reasons. Immediately following a meeting with the United Public Service Employees Union (UPSEU), the Executive Board was confident they finally found that strong labor union they have desperately been seeking to truly meet the needs of the membership. Subsequently, soon thereafter, the entire membership was invited to a presentation by UPSEU where the members made it clear that joining our organization was long overdue for the betterment of the entire membership.
The Association Unit President, Paulette DeLeo, had the following to say, "Searching high and low for just the right representation to affiliate with our Association became a trying task. The timing is critical for big changes coming our way. As soon as we met with Matt Geer we knew we found our partnership. I look forward to our new relationship and the Executive Board working with the UPSEU on behalf of our members."
Unit Treasurer, Elyse Pastore, indicated "I am thrilled that our association and members voted to affiliate with UPSEU. Matt Geer has provided us with an outstanding amount of support, knowledge and care as we begin this new journey with UPSEU, he has gone out of his way to make this a smooth transition for us and for that we are thankful. I look forward to a long lasting relationship with UPSEU as we stand together as one."
We welcome the Paraeducators of Stamford Association (POSA) to our growing UPSEU family!