UPSEU Advanced Steward/Officer Training Draws Nearly 40 Local Connecticut Union Officers
UPSEU Advanced Steward/Officer Training Draws Nearly 40 Local Connecticut Union Officers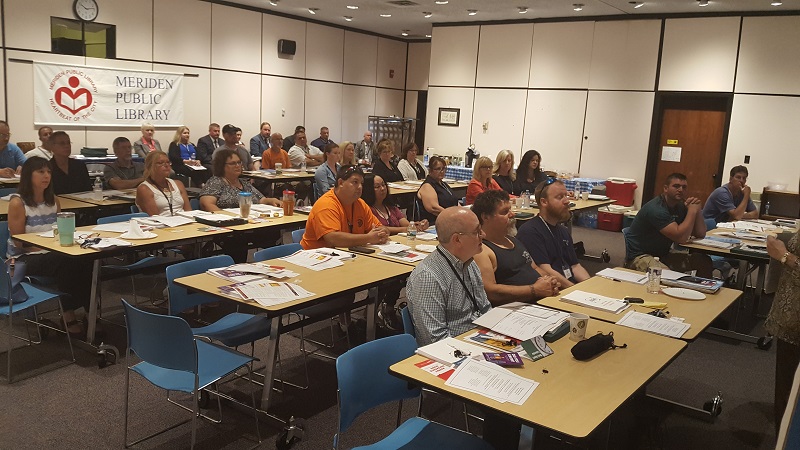 Nearly 40 local union officers from across Connecticut participated in UPSEU's Advanced Steward/Officer Training on Thursday, July 13 at the Meriden Public Library in order to learn from various labor experts in the field of employment law on topics ranging from Workers' Compensation, the Federal Medical Leave and Fair Labor Standard Acts, recent legislative efforts which could affect future collective bargaining, Occupational Safety & Health Administration policies and regulations, and the different types of medical insurance plans currently offered to municipal employees.
The day's first guest speaker, CT State Board of Mediation & Arbitration (CSBMA) Director Catherine Serino opened the training session by speaking at length about many of the recent developments in binding arbitration awards, services provided by CSBMA, and some of the recent bills introduced at the state legislative level designed to curtail the future entitlements of municipal bargaining unit employees. Among the bills, Serino told attendees, is one which would place a strict timeline of one year for municipalities and unions to reach a successor agreement once the old contract expires. Another proposed bill would limit wage increases in binding arbitration awards to 2%, and yet another would exclude retirement benefits from collective bargaining by state and municipal employees, just to name a few.
In her presentation on the Fair Labor Standards Act (FLSA), Assistant District Director of the U.S. Dept. of Labor's Wage & Hour Division, Nancy DiPietro discussed both the basics of the law such as how overtime is calculated, which employees and employers qualify for FLSA exemptions, and some Department of Labor legal remedies qualifying employees have at their disposal to ensure employers comply with minimum wage and overtime laws.
Speaking on how workers' compensation works, Andrew J. Morrissey, founding partner at the law firm Morrissey, Morrissey & Mooney, LLC. addressed those in attendance with an in-depth explanation of workers' compensation which included everything from how to secure initial medical treatment for employees injured on the job, to how long it typically takes to receive compensation benefits, to understanding the importance of filing the required forms with the state's Workers' Compensation Commission in a timely manner.
Participants at Advanced Steward Training were also treated to a detailed comparison, by Vice-President of Financial Strategy & Analysis Mike Cavello of the differences between the various types of medical insurances currently offered to municipal, collective bargaining units before the final guest speaker, James Pierce, an Occupational Safety & Health Manager with CONN-OSHA shared his expertise regarding what constitutes an OSHA workplace violation, how employees should file a potential safety complaint, and ways employers can ensure employees are safe in the workplace.
In addition to hearing from the many guest speakers, anyone who participated in UPSEU's Advanced Steward/Officer Training received a number of helpful handouts and brochures which covered such topics as FMLA Standards and Guidelines, policies and procedures of the CT State Workers' Compensation Commission, and even a handy reference guide produced by the Department of Labor on Wage & Hour laws. Participants were also given a detailed packet to take back to their respective units highlighting many of the benefits UPSEU offers members.
Kara Canney, UPSEU Trumbull, CT - MATE President said she was grateful to UPSEU for offering Advanced Steward Training particularly since her bargaining unit is currently in negotiations with the town for a successor contract.
"All of the presenters and topics were relevant and helpful to my current role as unit president and will be very useful in our current negotiations. Thank you UPSEU!" said Kara.
Another attendee, Jasmine Armstrong, UPSEU Windsor Locks, CT - BOE Food Service President likewise stated how useful the event was to her.
"The day's training was very helpful and informative. As a new officer, the training definitely helped to clarify what some of what the responsibilities are of being a unit leader," said Jasmine.
Matt Geer, the Regional Director of UPSEU's Meriden office and the organizer of the event commended the attendees for their dedication and said he was pleased by how many local unit leaders took advantage of the training UPSEU provided.
"Our unit officers/stewards often do not receive enough praise and thanks they deserve for their time, dedication, and passion that they put into representing their respective members. This is another example of our leaders taking advantage of a learning opportunity that they can take back to their members with the guidance of the assigned unit's UPSEU Labor Representative. UPSEU and our unit officers/stewards are committed to educating our members regarding their rights as employees, getting our members actively involved and as a result strengthening the labor movement," said Geer.