School Bus Driver Endorsements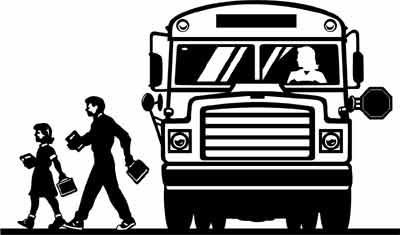 Are there new requirements for obtaining a Commercial Driver's License (CDL) as a School Bus Driver?
Yes. New requirements entail specific knowledge and skills tests for all school bus drivers who are required to hold a Commercial Driver's Licenses (CDL). There are also changes to the CDL requirements for all commercial motor vehicle drivers (CMV). The changes to the CDL allows the disqualification of CMV drivers who have been convicted of certain traffic violations, or of committing drug and alcohol-related offenses, while operating a passenger vehicle
What are the new requirements specifically for bus drivers?
The new law is called a school bus driver endorsement. The following three requirements must be met to qualify for a school bus driver endorsement:
(a) Loading and unloading children including the safe operation of stop signal devices, external mirror systems, flashing lights and other warning and passenger safety devices required for school buses by state of federal law or regulations,
(b) Emergency exits and procedures for safely evacuating passengers in an emergency.
(c) State and federal laws and regulations for safely traversing highway rail grade crossings,
Qualify for (a state-established) passenger vehicle endorsement, Pass the knowledge and skills test for obtaining a passenger vehicle endorsement.
Knowledge Test. (The driver) Must have knowledge covering at least the following three topics:
Skills Test. (The driver) Must take a driving skills test in a school bus of the same vehicle group as the school bus applicant will drive,
If I already hold a CDL with a passenger vehicle endorsement, will I have to take a knowledge test for the school bus driver endorsement?
If your licensing process, or your preservice/inservice training did not include a knowledge test that meets the requirements listed above, then the driver currently holding a CDL will have to take a test.
If the existing state law meets the requirements for the knowledge test, then the driver currently holding a CDL will not have to take another test.
What about the skills test? Will I also have to take that?
At the discretion of the state, the skills test may be waived for an applicant who:
currently holds a CDL;
has been employed as a driver of the type of vehicle he/she seeks to drive;
has a good driving record; and (4) meets the conditions of having no serious traffic offenses in the past two years. This waiver will not be available after September 30, 2006.
What exactly does it mean to have a good driving record and no serious traffic offenses in the past two years?
The law includes the following criteria:
I) Has not had his/her driver's license or CDL suspended, revoked or canceled or been disqualified from operating a CMV.
II) Has not been convicted of any of the disqualifying offenses outlined in the law while operating a CMV or of any offense in a non-CMV that would be disqualifying under the law if committed in a CMV.
I drive different types of buses from one day to another. Will I have to have a separate school bus driver endorsement for each of these vehicles?
The law requires a skills test in a school bus of the same vehicle group as the applicant will drive. There are three vehicle groups:
Combination vehicle (A);

Heavy Straight Vehicle (B)—large buses over 26,000 Ibs. fall into this category;
Small Vehicle (C)—16 or more passengers, GVW under 26,000 Ibs.
What if my state already meets all of the requirements in its current CDL process?
Some states already meet or exceed the standards of the Federal Motor Carrier Safety Administration., Those states standards may remain and continue to be in effect. If a state does not meet the minimum standards set by the FMCSA, the state will have to revise its standards.