Brookfield BOE Custodians Vote Nearly Unanimously to Join UPSEU and Leave SEIU Local 2001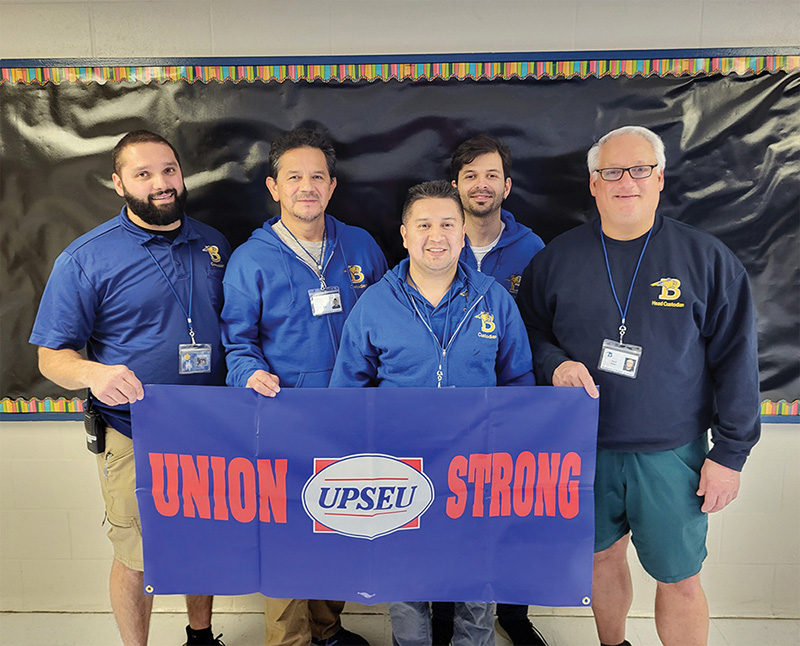 Brookfield BOE Custodian members left to right: Julio Fajardo, Ricardo Barba, Leo Cordova, Pedro Oliveira da Silva Filho and David Demirs
By a nearly unanimous vote, the Brookfield Board of Education Custodians have chosen to leave SEIU Local 2001 and join UPSEU.
The Brookfield BOE Custodians were hoping to make this move to UPSEU three years ago, but were blatantly lied to by SEIU Local 2001. They told the members that if they left SEIU and joined UPSEU they would lose their contract and subsequently all of the benefits they previously secured and enjoyed. This resulted in the bargaining unit members being too nervous to make a change of union representation until they received assurance that their contract and benefits would not be negatively affected. Several members contacted the CT State Board of Labor Relations (SBLR) and were told emphatically by the SBLR Director that when a bargaining unit changes labor organizations they do not lose their current level of benefits or contract and for an employer to take any such action would be completely unlawful.
While members of the Brookfield BOE Custodian bargaining unit were relieved by the SBLR's response, many became disgusted with SEIU for spreading such false and misleading information in a blatant scheme to scare them away from going to another union. Such antics by SEIU made it painfully evident not only that it did not have the membership's best interests at heart, but the depths to which that organization was willing to stoop.
Though they were being scared off from pursuing a change to UPSEU because of SEIU's conduct back in 2020 and, therefore, continuing to be stuck with poor representation, the Brookfield BOE Custodians meanwhile had the opportunity to learn of the professional representation UPSEU was providing to the Brookfield BOE Secretaries/Technical Employees and the Brookfield BOE Nurses. UPSEU's level of preparedness and expertise at the bargaining table and talk among the district employees concerning UPSEU's representation/service began to spread. As a result of this, the Brookfield BOE Paraeducators also decided to cut ties with SEIU Local 2001 to join UPSEU.
When the Brookfield BOE Custodians saw all these various bargaining units leave SEIU and join UPSEU, heard all of the positive feedback from their colleagues throughout the district and learned of the results UPSEU was able to achieve at the negotiating table for these other bargaining units, the custodians realized that they desperately needed and wanted UPSEU to be in their corner and advocate for them as well.
"The Brookfield custodians are happy to join UPSEU. We are very pleased that we now have support and real representation," stated Unit President Dave Demirs.
Regional Director Matt Geer praised the Brookfield BOE Custodians, as well as the Secretaries/Technical Employees, Nurses, and Paraeducators, as he stated, "I am proud of the Brookfield BOE units represented by our organization for taking a stand and recognizing that it was time for a change, time for the employees to truly have a labor organization (UPSEU) that they could rely on and trust to have their best interest at heart. We will diligently advocate on their behalf at all times. Every day that goes by UPSEU is fighting for the rights of our members. UPSEU has wasted no time in properly representing the custodian bargaining unit and is already pursuing a significant workplace matter on its behalf."
We welcome the Brookfield BOE Custodians to the growing UPSEU family!