UPSEU Secures Best Financial Contract for POSA Since its Inception in 1970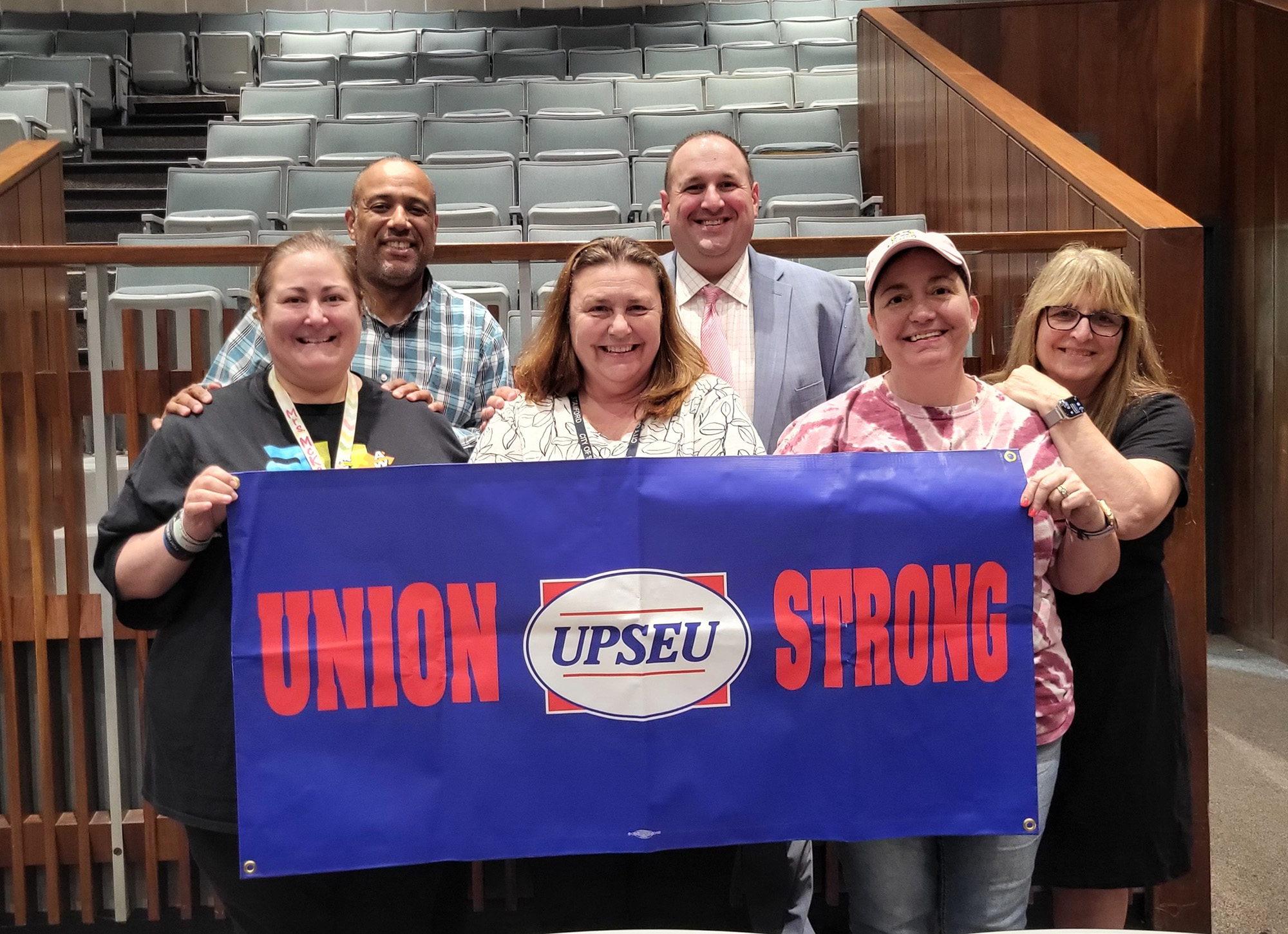 Executive Board from Left to Right - Front Row: Deena McKee (Corresponding Unit Secretary), Elyse Pastore (Unit Treasurer & Negotiations Chair), Debb Gibb (Unit Recording Secretary) and Paulette DeLeo (Unit President). Missing from picture: Linda Uva (Unit 2nd Vice-President) Back Row: Nephty Cruz (UPSEU Labor Relations Representative, Matt Geer (UPSEU Regional Director)
From the onset of the Paraeducators of Stamford Association (POSA) contract negotiations, which began in April 2022, UPSEU made clear that during the course of these negotiations with respect to the financial components of a new contract on behalf of our membership, a transformative agreement would be secured.
Through the leadership of UPSEU Regional Director, Matt Geer, who served as Chief Negotiator for these contract negotiations, it was articulated to the District that the cost of living in the City of Stamford in April 2022 was 50.6% higher than the national average and a large percentage of our membership lives within the city limits. Mr. Geer presented to the District other compelling arguments related to the members' inadequate wage rates such as (1) comparable wage and benefit data of Paraeducator bargaining units within Stamford's district reference group (DRG); (2) benefits of other Stamford BOE bargaining units; (3) Connecticut's increasing minimum wage, emphasizing that the job of a Paraeducator is the furthest thing from a minimum wage job; and (4) the need to address retention and recruitment of Paraeducators.
It was clear to UPSEU and the Executive Board/Negotiating Committee that our aggressive position at the bargaining table paid dividends as negotiations concluded at a record pace for the bargaining unit (within 3 months) and the Union secured historic wage increases for our membership. Our members each received a significant market adjustment in the first year of the contact, as well as step movement. During the next three years of the contract, the membership advances one step each year and receives an annual general wage increase (GWI) that is almost double the current negotiated settlement trends in the State of Connecticut. To put these wage increases into perspective, a large percentage of the membership will see its rate of pay increase by far more than the previously noted cost of living percentage currently in the City of Stamford. In speaking with veteran members of the bargaining unit, as well as some retirees, it was noted to UPSEU that the financial terms of this new contract are better than any contract that this bargaining unit has seen since its inception in 1970 when the membership was represented by another union and the starting rate of pay was below $5.00 per hour and as well when represented by an independent Attorney who represented the Association just prior to the bargaining unit affiliating with UPSEU four years ago. One bargaining unit member commented, "Matt, thanks to you and the Committee for all the hard work and time that was put into the new contract. Where would all the Paraeducators be without you and your great negotiating skills? We can't say thank you enough!" The bargaining unit has made incremental improvements since 1970, but significant progress did not begin until UPSEU started representing the bargaining unit and negotiating on their behalf.
Other achievements made in these negotiations include language defining the start of each school year, improving the teacher substitute language and compensation, increasing the sick leave accrual (which also then increases the amount of payout for sick time upon retirement), a minimal increase of only 1% on the employee's health insurance cost share throughout the entire four year duration of the agreement, new language protecting our members in the event they are involuntarily transferred, enhanced bereavement leave language, and new language that allows the Unit President or designee paid time off to attend the funeral of a deceased member of the bargaining unit. Paulette DeLeo (Unit President) and Elyse Pastore (Unit Treasurer & Negotiations Chair) commented, "POSA banded together with UPSEU to promote the common interests of the paraeducators throughout the Stamford Public School District. One person standing alone may not be heard, but all of us joined together are much louder and have much greater strength. With UPSEU representation in place, we became that collective voice and united front, and because of that, we successfully achieved the best contract in our history. Thank you to Matt Geer and (Labor Relations Representative) Nephty Cruz for all their hard work and unyielding support!"
Mr. Geer noted, "the historic wage increases secured with Stamford Public Schools are well overdue for our hardworking members, but those increases should not distract from the continued underappreciation of Paraeducators throughout our entire country. The work that Paraeducators do every day within classrooms and schools are invaluable to the success of students. Teachers throughout the country recognize the critical role Paraeducators play during every school day. It is about time that Administrators walk a mile in the shoes of a Paraeducator to gain a true appreciation for all that they do, as well as all they endure as a result of increasing difficult student behaviors. The disrespect for Paraeducators is a social justice issue to me, which is a reason that I sit on the CT School Paraeducator Advisory Council on behalf of UPSEU. Our work continues and we will not stop diligently advocating on behalf of all of our Paraeducators until the recognition, compensation, benefits and working conditions are addressed. We commend our POSA Negotiating Committee/Executive Board for the leadership and teamwork they each exhibited during these negotiations, which significantly assisted us in reaching this historic new contract."