Washington County dispatchers may get reward for working during gas leak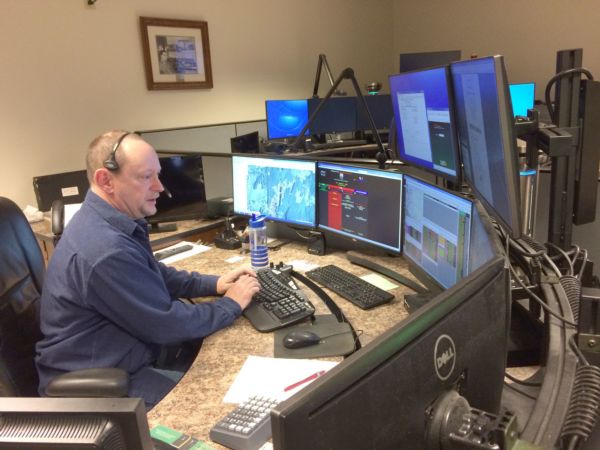 Washington County Communications Supervisor Stephen Griffin oversees a 911 call from his bank of computers in the 911 dispatch center in 2016. Dispatchers work together out of a locked room in the basement of the Washington County Municipal Center in Fort Edward. Kathleen Moore—kmoore@poststar.com

BY KATHLEEN MOORE kmoore@poststar.com Dec 5, 2018

FORT EDWARD — As Washington County Municipal Center was evacuated Monday, the 911 dispatchers stayed at their desks.

They kept dispatching emergency calls while workers found a gas leak, turned off the furnace that provided heat to the building, and eventually fixed the problem at 10 p.m.

Officials kept testing the air in the call center to make sure the dispatchers were safe, said Tim Hardy, the county's deputy director of public safety.

If the situation had gotten worse, the dispatchers could have rolled calls to Warren County. Then, they would have driven to the Warren County Municipal Center, logged in at backup phones and gotten back to work.

"We have a geo-diverse phone system. We actually bought it together," Hardy said.

When dispatchers log in, the system looks exactly the same from either center. That makes it easier for dispatchers to evacuate to the other location in an emergency.

It didn't come to that on Monday, but county Administrator Chris DeBolt wants the dispatchers rewarded for their efforts during the crisis.

"It's not the private sector. We can't give them a bonus for their dedication," he said.

But everyone else got to go home and will probably end up being paid for the four hours they didn't work.

"Those dispatchers can't leave. When that fire alarm goes off, everybody else leaves," he said. "We are fortunate to have some really good people that work here, and it was not pleasant for part of the time."

He also wants the Buildings and Grounds crew to get four hours of vacation time for staying on the job. Some workers will also get overtime for working until 10 p.m. to solve the furnace problem.

All of the workers who stayed will also be paid for the hours they worked. Supervisors indicated Tuesday that they might not be supportive of giving the workers more than their pay.

They said it could be a "slippery slope" that would lead to more rewards in other circumstances.

The issue will be debated at the personnel committee meeting on Dec. 11 at 9:30 a.m.

You can reach Kathleen Moore at 742-3247 or kmoore@poststar.com. Follow her on Twitter

@ByKathleenMoore or at her blog on www.poststar.com.