Southington BOE Occupational & Physical Therapists Vote UNANIMOUSLY to Join UPSEU
As a result of a Connecticut State Board of Labor Relations secret ballot election held on March 20, 2017, the Southington BOE Occupational and Physical Therapists voted unanimously to join UPSEU.
The Southington BOE Occupational and Physical Therapists most recently were employed by a private employer who had a contract with the District to provide services to the children within Southington Public Schools. The District voted last year not to renew that contract and thereafter hired many of those same employees outright to work for the District while providing the same type of services to its children.
Due to uncertainty surrounding their positions, the employees knew they needed job protection and an advocate in their corner moving forward. After speaking with numerous Paraeducators and ABA's (represented by UPSEU) within the District about their union representation, the Occupational and Physical Therapists sought out UPSEU to represent them.
"Our organization is proud of these employees for standing united together as they let their voices be heard loud and clear through the results of the secret ballot election," stated UPSEU Regional Director, Matt Geer. UPSEU is eager to get to work on behalf of these professional employees.
We welcome the Southington BOE Occupational and Physical Therapists to the UPSEU family!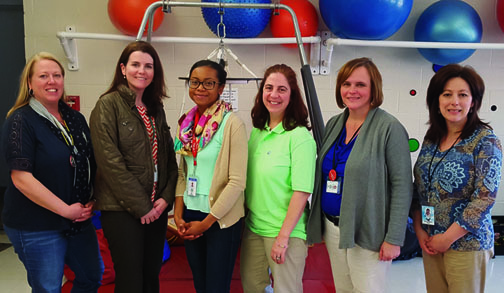 Tracie Stanton, Maureen Casey, Monique Delaney, Unit Secretary Kristen Cresta
VP Susan Spatafore and Unit President Maureen Tombari