14th Annual UPSEU Basic Unit Officer & Steward Training Draws Record Turnout in Connecticut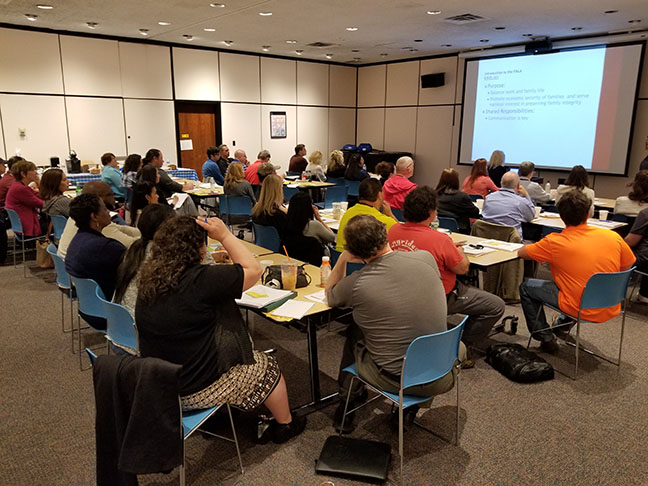 Local unit officers from across CT participated in UPSEU's Basic Unit Officer and Steward Training on Monday, May 14, Meriden Public Library
The largest ever turnout of local unit officers from across Connecticut participated in UPSEU's 14th Annual Basic Unit Officer and Steward Training on Monday, May 14 at the Meriden Public Library where a record number of attendees were treated to a detailed explanation of the Family and Medical Leave Act (FMLA) as well as an in-depth tutorial on grievances and unfair labor practices by labor relations representatives and attorneys as well as an expert with the U.S. Dept. of Labor.
The day's primary guest speaker, Assistant District Director of the U.S. Dept. of Labor's Wage & Hour Division, Nancy DiPietro opened the day's training session by speaking at length about the history behind FMLA, how FMLA works, eligibility requirements, and the various enforcement mechanisms currently utilized by both employees and employers.
Various UPSEU Labor Relations Representatives and attorneys were also on hand for the day in order to provide attendees with a comprehensive overview of the differences between a grievance and an Unfair Labor Practice and how each is properly filed and processed.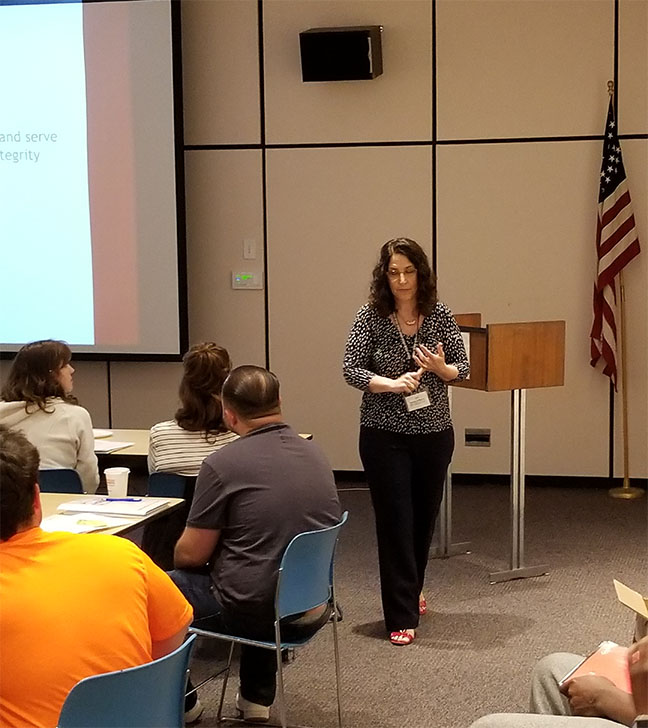 In addition to hearing from the many guest speakers, anyone who participated in this year's Basic Unit Officer and Steward Training were provided lunch and received a number of helpful handouts and brochures covering FMLA Standards and Guidelines, a handy reference guide produced by the Department of Labor on Wage & Hour laws, important contact information, standard grievance forms and a detailed packet to take back to their respective bargaining units highlighting many of the benefits UPSEU offers members and can be accessed through upseu.org.
First time attendee Cindy Leonard, UPSEU Waterbury (CT) BOE Administrative Support Staff Unit Secretary said she was grateful to UPSEU for offering Basic Unit Officer and Steward Training particularly since she is a relatively new unit officer.
"The realm of topics were covered effectively by all the day's speakers. I learned so much and feel much more confident providing answers when members ask me questions. It was also great that the speakers took time to thank all of us for our service as UPSEU officers," said Cindy.
Matt Geer, the Regional Director of UPSEU's Meriden office and the organizer of the event commended the attendees for their dedication and said he was pleased by the growing number of local unit leaders who, each year, take advantage of UPSEU provided training.
"UPSEU is committed to educating our unit officers and stewards on the legal rights of our members by providing top-notch training. As a result, year after year the number of unit officers and stewards that participate in UPSEU's (Meriden, CT) annual training vastly increases. The fact that this event has grown in popularity the way it has is a true testament to the dedicated and committed unit leaders UPSEU has, and for that I am extremely grateful as is the entire staff at UPSEU," said Geer.