Bonus.com?Supersite for Kids: This site, which opens to electronic music, is full of games, contests and fun educational challenges. You have to register to play, but they post their privacy policy, which promises not to give or sell the info to anyone else.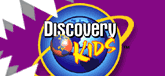 Discovery Channel Online: Click on logo
Includes feature stories, games, expeditions, a news brief section and much more.
The Great Plant Escape: Help Detective >Le Plant and his partners Bud and Sprout unlock the amazing mysteries of plant life.
HST?s Greatest Hits: Amazing photos taken from the Hubble Space Telescope.
Making Friends & other Crafts for Kids: All types of fun craft projects for kids ages 2-12.
Yahooligans: A web guide just for kids created by yahoo.

The Yuckiest Site on the Internet:Click on logo.
A unique approach to science learning includes bodily noises and goo, roaches and the worm world. Kids will love it!
NEW! Finances for Kids